Holger Rotvig is the Sheriff of Mandan in 2666.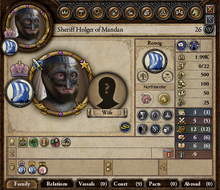 Personality
[
]
Holger Rotvig is a thrifty clerk. A trusting and straightforward man who has a reputation of being a coward and with jealous tendencies towards his courtiers and other rulers.
History
[
]
Born in 2640 from unknown parents. Holger ascended to the title of Sheriff of Mandan in 2663, at the age of 23, in unknown circumstances.
Family
[
]
Sigil
[
]
The Sigil of House Rotvig is a blue and white viking longship on a white field.
Rumors
[
]
The Norse of Mandan are said to see themselves as heirs to Albert Soady's legacy of terror upon foreign faiths and take inspiration from old stories of horse riding bandits and lawmen such as Jesse James.
Legends
[
]
Trivia
[
]